If shopping at Kathmandu, wearing hiking boots (not the fashionable sort), tripping over pegs and poles, sleeping on the floor and waking up to the sweet smell of condensation inside a cramped one-man tent are all absolutely not your vibe but you do want to reconnect with nature and disconnect from crazy city life—this list of the best glamping spots in Western Australia is for you.
Whether you are planning a romantic vacation, a long weekend with your crew or a family adventure, we've dug up some of the best glamping getaways located in and around Perth. Think sweeping properties, bubble tents with uninterrupted views of the night sky and more.
So if you're keen to give glamping a whirl, here are some of the best glamping spots in Perth and WA.
Yallingup Lodge Spa & Retreat
Yallingup
Set beneath beautiful pine trees in Yallingup, this adults-only retreat is the definition of luxury. The 7-acre property is kitted out with a pool, day beds, onsite day spa, private yoga instructor, outdoor rain shower and a beautiful pair of outdoor baths for you to soak in. Start your day with a special cooked breakfast served up on the treetop balcony and end it with a bottle of champagne on ice by the bath before retiring to your comfy tent bed. It's also female-owned and dog-friendly so it gets extra ticks from us.
Two Blind Cows
Margaret River
Sitting pretty on a secluded property in Margaret River, the eco-friendly tents at Two Blind Cows each have a queen-sized bed decked out with super comfortable linen, a kitchen and a bathroom complete with bathrobes and handmade natural soaps and lotions, not to mention air con and heating. By night, you'll find yourself relaxing on the outdoor deck enjoying a BBQ with a bottle of wine that you picked up from a neighbouring winery, of course.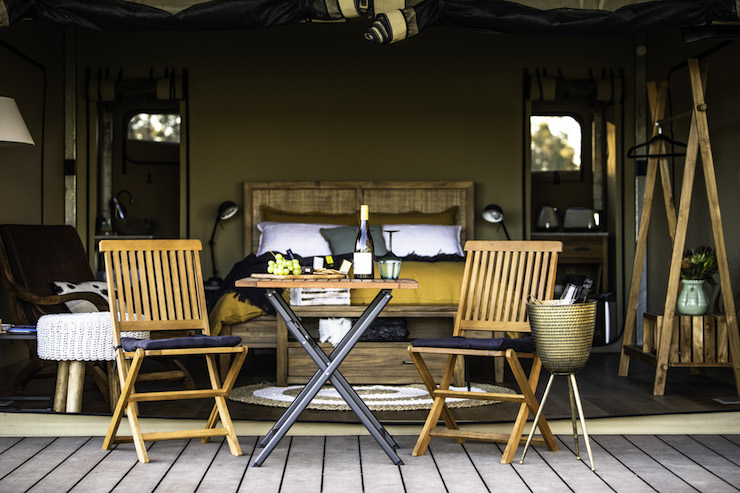 Olio Bello
Margaret River
The team behind some of WA's best olive oil is also behind some of the best glamping in WA thanks to their six lakeside safari-style bungalows. Book a bungalow at Olio Bello and you'll be treated to a private ensuite and kitchenette, not to mention a beautiful (and comfortable) spot to rest your head. When you feel like getting out and about, you can explore the olive grove, fuel up at the cafe, sample some oils or go for a drive and explore Margaret River.
Margaret River Retreat
Margaret River
Offering a mix of eco-glamping and luxe self-contained chalets, Margaret River Retreat is another glamping gem set within the stunning Margaret River region. There are ten bell tents within the village, each boasting a luxe hotel-worthy queen bed for you to cosy up in beneath the stars, with space for an extra mattress or two if you need it. There's also a shared kitchen, dining and lounge area you can use, as well as a yoga and mediation room to help you reach peak relaxation.
Mile End Glamping
Margaret River
These people have got a seriously fancy camping situation going on. Instead of a tent, you sleep under a transparent dome, so you can enjoy staring up at the night sky without having to worry about mosquitos, snakes, spiders or any of the various Australian wildlife that wants to kill you. Designed for two people, each dome comes equipped with a bathroom, kitchen, king bed and is attached to a deck area complete with a private spa and barbeque. The whole place is set on a 144-acre estate so you can enjoy the quiet solitude of nature from your speccy dome—and Margaret River's wineries are only a few minutes away.
Eco Beach Resort
Broome
This award-winning eco-resort is about an hour's drive south of Broome and provides guests with an unforgettable natural experience, has minimal impact on the environment and your tent is set up ready to go when you get there. Tick, tick and tick. Their eco-tents are perfect for those who really want to soak up the natural glory of the Kimberley in all its wonder, while still having a bit of comfort and convenience. Each one has a king bed with amazing ocean views, so you can feel rested and rejuvenated for all the rad activities they offer like yoga, kayaking, paddle boarding and fishing. Glamping in WA never sounded so good.
Margaret River Glamping
Margaret River And The South West
The guys at Margaret River Glamping will sort you out wherever you might find yourself glamping in WA's beautiful south west region. If you're not sure where to stay, they've got a few stunning locations to suggest, or if you find yourself inviting a few too many people down to your Margaret River holiday home, you can get these guys to set up a couple of extra beds for your guests.
Sal Salis
Ningaloo Reef
Imagine if you could be so entrenched in nature that you wake up to the sounds of birds singing, watch kangaroos grazing among sand dunes and catch glimpses of whales on Ningaloo Reef, all without having to pack the car full of camping gear. Imagine no more. Sal Salis is a remote beachside safari camp in the dunes of Cape Range National Park on the shores of Ningaloo Reef, featuring 16 'wilderness tents'. What's a wilderness tent, you ask? It's a tent that sits on a raised platform (away from the dangerous insects, thank you) fitted with a jarrah bed, cotton sheets and an en suite bathroom. Sal Salis also offers communal long table dining with meals prepared by their expert chefs, snorkelling equipment, kayaks and a library full of books—so you literally need to pack nothing. NOTHING.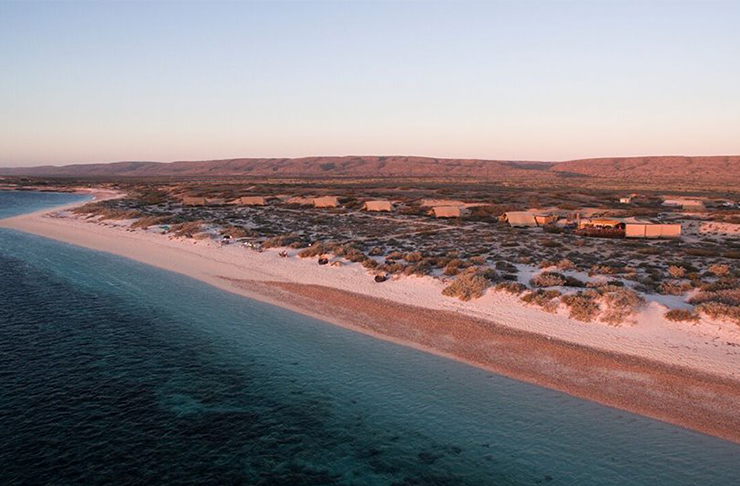 Wild Goose Camping
Multiple Locations
From the beach to the farm, to the forest or even the middle of a wine trail, the crew at Wild Goose Camping will set up a lavish bell tent at a load of stunning locations around our great state. As for the tents, you've also got a tonne of options but each one will come complete with a comfy mattress topped with extra blankets to keep you toasty, indoor and outdoor rugs, lighting, and outdoor furniture for those camp-side wines.
Drafty's Campsite By WA Wilderness
Pemberton
Deep in the forest at the heart of Warren National Park sits Drafty's Campsite, a cool, green campsite right on the banks of the Warren River. No planning or extensive packing is necessary, you just pull up and everything is there ready for you; a tent has been set up, there's a bed in there with fresh sheets, plus barbeque areas and fully-maintained cooking facilities are on-site. There are wineries, restaurants and galleries all scattered around the area, so instead of wasting time packing and unpacking your carload of camping supplies you can spend that time drinking wine instead. Seriously, why has nobody thought of this brilliant concept sooner?
Glamping Co
Anywhere
The Glamping Co. have really perfected what is the best idea ever: awesome, comfy, boho tents set up anywhere you want. Their glamping experiences are much like having a hotel room crammed into a tent, which truly makes it the ultimate compromise if you're a non-camper being forced into a camping situation. Their luxe bohemian bell tents feature five-star hotel beds, super soft linen, rugs, tables, chairs, candles, showers, toilets, and they can even set up power for you. Now if that's not glam, we don't know what is.
Eco Retreat
Karajini
This environmentally friendly retreat and campground is nestled in the heart of the spectacular Karijini National park—you just don't get much closer to nature than that. And you can really soak it all up by staying in one of their deluxe eco tents fully equipped with beds, linen, lanterns, fans (because it will get hot out there, guys), a private en suite bathroom, and an attached outdoor deck area so you can sit and enjoy the starry night sky.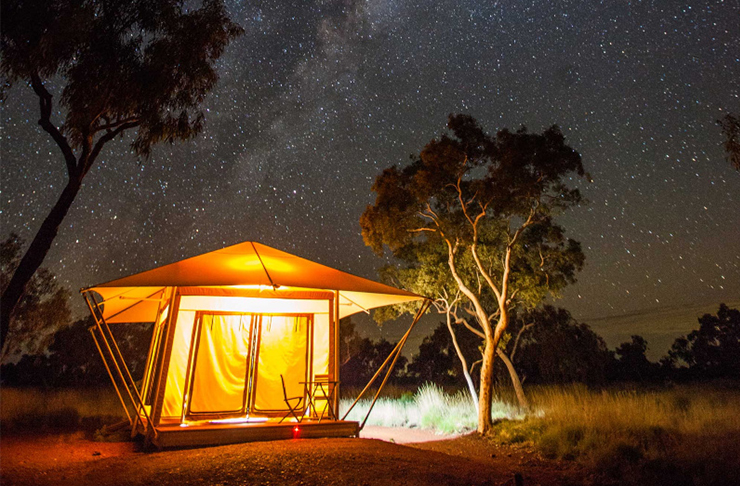 Nomadika Glamping
Anywhere
Nomadika is all about making something special from the otherwise mundane. They'll come and set up one of their beautiful bell tents wherever you please, from Dwellingup to Yanchep to your own backyard. You'll get a double bed with all the trimmings, rugs, side tables and a cushioned lounge area for your very own picnic. Speaking of, you can leave the food up to them and add a hamper to your package so you don't have to lift a finger.
The Billi
Broome
Glamping in Broome is serious business and the super luxurious eco tents at The Billi are a glamper's dream. Complete with air conditioning, a BBQ, kitchenette and free WIFI, we're not sure this resembles anything even close to camping, but we're kind of ok with that.
Soul Camping
Anywhere
The thing that often puts people off camping is having to pack the car full of everything you'll need, drive it all to your destination, unpack it, set up your tent and lay out all your camping supplies—and then in two days' time have to pack it all down again, load it back in the car, unpack it all at home and clean all the dirt off it all. It just ain't worth the hassle. Which is why Soul Camping started their biz of going out to wherever you want to camp and setting up an amazing bell tent complete with a bed, fresh linen, pillows, side tables, lamps, rugs and an outdoor table and chairs. All you need to do is rock up and then leave again. They service the Busselton to Margaret River region so to make your glamping dreams come true. Book now.
Discovery Rottnest Island
Rottnest Island
Rottnest's glamping eco retreat, Discovery Rottnest Island, might not be open to the public right now but it won't be long before you can book into one of their 83 luxury eco-tents, complete with ensuites, pillow-topped mattresses and decks. Tucked into natural surroundings, there are four types of tents available: Base Camp with all the basics, Tuart with a kitchenette and private deck, Family with a separate annexe for kids and Dune with the whole shebang plus ocean views. With an on-site restaurant, bar and pool, what more could you want from a Rottnest adventure?
Image credit: Yallingup Lodge Spa & Retreat, Two Blind Cows, Mile End Glamping, Sal Salis and Karijini Eco Retreat
Article – The Urban List